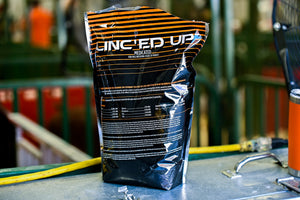 VFD REQUIRED TO PURCHASE-SEE BELOW.
Linc'ed Up contains LINCOMIX® (lincomycin), the ONLY U.S. feed medication with a label claim for the reduction in the severity of Mycoplasma hyopneumoniae. While working within an established Vet Client Patient Relationship (VCPR), Linc'ed Up, medicated with LINCOMIX® (lincomycin), gives veterinarians and showpig producers an additional tool to address respiratory disease associated with Mycoplasma hyopneumoniae and ileitis caused by Lawsonia intracellularis, all with a ZERO-DAY withdrawal.
Upon completion of ordering, please email your VFD to amanda@matthewsfeedandgrain.com. Your veterinarian can send the VFD to Matthews Feed & Grain using Global Vet Link. Orders containing Linc'ed Up will not ship until the VFD has been received. Orders of Linc'ed Up that are cancelled will be subject to a restocking fee.
Linc'ed Up, medicated with LINCOMIX® (lincomycin), can be added to an existing showpig feeding program based on the recommendation from a veterinarian, ensuring Veterinary Feed Directive (VFD) compliance.
Click the images below to view the full label: